Compare Coby CA745 to Whole House FM Transmitter 3.0
The all NEW Whole House FM Transmitter is packed with so many upgraded features, its difficult for us to compare it to lesser transmitters like the Coby CA745.
With a redesign driven by customer innovations, the NEW 3.0 broadcasts further, uses multiple powering options and comes with a direct in line microphone port. The Coby CA745 doesn't stand a chance in a head to head comparison with the improvements we made to the 3.0.
With superior broadcast distance and unsurpassed flexibility, you can clearly see why we offer a generous 120 day risk free trial and 1 year warranty.
Coby CA 745

Whole House FM Transmitter 3.0

Transmission
Frequency Options
88.1 – 107.9 MHz
88.1 – 107.9 MHz
Broadcast Distance
A few feet
150 Feet In All Directions
Power Sources
AC Wall Outlet
No
Yes
12v Car Power Adapter
Yes
Yes
Computer USB
No
Yes
Batteries
No
Yes
Audio Sources
iPods & iPhones
Yes
Yes
Other MP3 Players
Yes
Yes
TVs, DVD Players, Home Stereo, Satellite Radio, etc
No
Yes
Computers, Laptops, Netbooks, etc
Yes
Yes
Direct Input Microphone
No
Yes
Other Audio Sources
Yes
Yes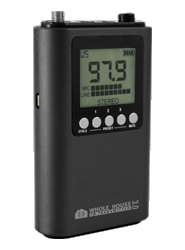 $250.00
$124.99
Lifetime Customer Support
FREE Accessories ($60 Value)
Offer available for a limited time
Order Now