Don't Buy Any FM Transmitter Until
You First Know The Truth About
Personal FM Transmitters
Certain FM Transmitter companies are fighting hard to keep you from finding out the truth about a little known FCC document. Why is that you might ask? The reason is because this document clearly shows that most FM Transmitter manufacturers are either too afraid or too lazy to give you what is legally yours!
You see, there was an FCC document published over 20 years ago giving the guidelines on how powerful and how far a personal FM Transmitter can broadcast without needing a license and its much further than what most companies claim. Many say about 10 to 30 feet is the maximum distance you can broadcast. They say this because they either don't want to put in the extra work to give you the maximum distance you can have or are too scared of the FCC to give you what is legally yours.
I know this may sound crazy or possibly too far fetched but you can click the link below to read a copy of the FCC document yourself and see that we're telling you the truth. Armed with this knowledge we built the Whole House FM Transmitter to give you all that you are legally entitled to by giving you the maximum distance the FCC allows without needing a license.
See for yourself below how our FM Transmitter is head and shoulders above our competition in not only distance buy also quality and features.
CLICK HERE TO SEE THE FCC DOCUMENT
Superior Broadcast Distance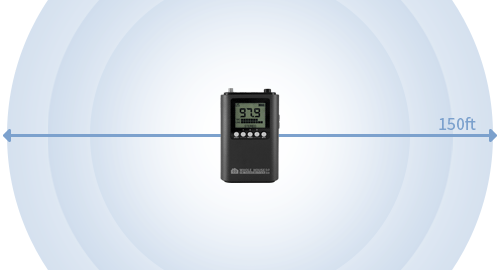 The Whole House FM Transmitter 3.0 broadcasts a static free signal 150 feet in any direction. Compatible with most audio sources like iPods, iPhones, MP3 players and computers. You will love the ability to broadcast your favorite music and audio sources to any FM radio.
Integrates seamlessly with home and car stereos.
Compact and Ergonomically Durable Outer Shell
The WHT 3.0 is about the same size of a deck of playing cards and fits in the palm of your hand, pocket or the desktop stand.
The shell is cast from a stronger plastic polymer to help safeguard against accidental drops, and is held together by four screw fasteners protecting sensitive components.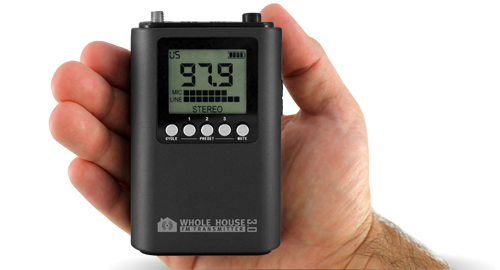 Removable SMA Swivel Antenna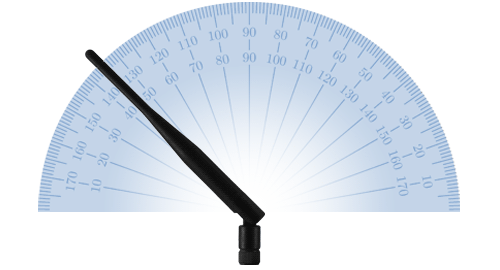 New removable 6.5" SMA helical antenna features a conducting wire wound tightly in the shape of helix, increasing efficiency without increasing your antenna size. The helical antenna will broadcast a clear signal up to 150 feet.
Intuitive User Interface
Simplified controls and larger screen (1.47 x 1.34 x 1.10″ – 81% larger) make it easier to use and easier to read. The blue back-lit screen makes the selected FM frequency more visible in low-light conditions. The mute button once housed on the volume control and is now on the face of the 3.0.
Mechanical Power On/Off Switch
Mechanical power switch stays on even when you suffer a power outage. The transmitter will turn on and return to the set frequency when power comes back on. Plus, it won't drain the batteries like an electrical switch when powered off.
Stereo/Mono Selection
Choose between which mode you want to broadcast your audio. Listen to your music and other audio in true stereo format with the right and left channels. While mono broadcasts the audio signal further when needed.
Separate Line In and Microphone Volume Control
The line in volume and the microphone have separate volume controls. Turn up the volume on the mic while reducing the volume of the audio with a press of a button. Great for Fitness Centers and karaoke.
3 Pre-set Frequency Buttons
Just tune the FM Transmitter to a frequency, hold the button in for three seconds and the WHT 3.0 instantly stores your favorite frequencies. Perfect for in-car use!
Redesigned Mute Button
We placed the mute button on the face of the 3.0 for easier use. The previous versions caused some confusion and this innovation was a direct result of valued customer feedback.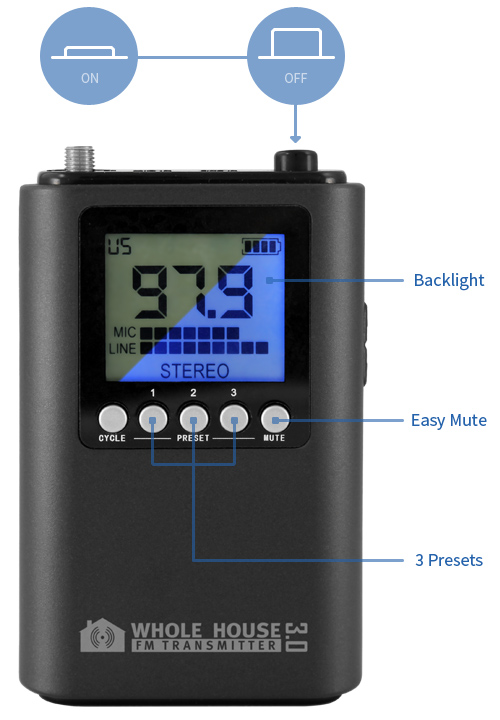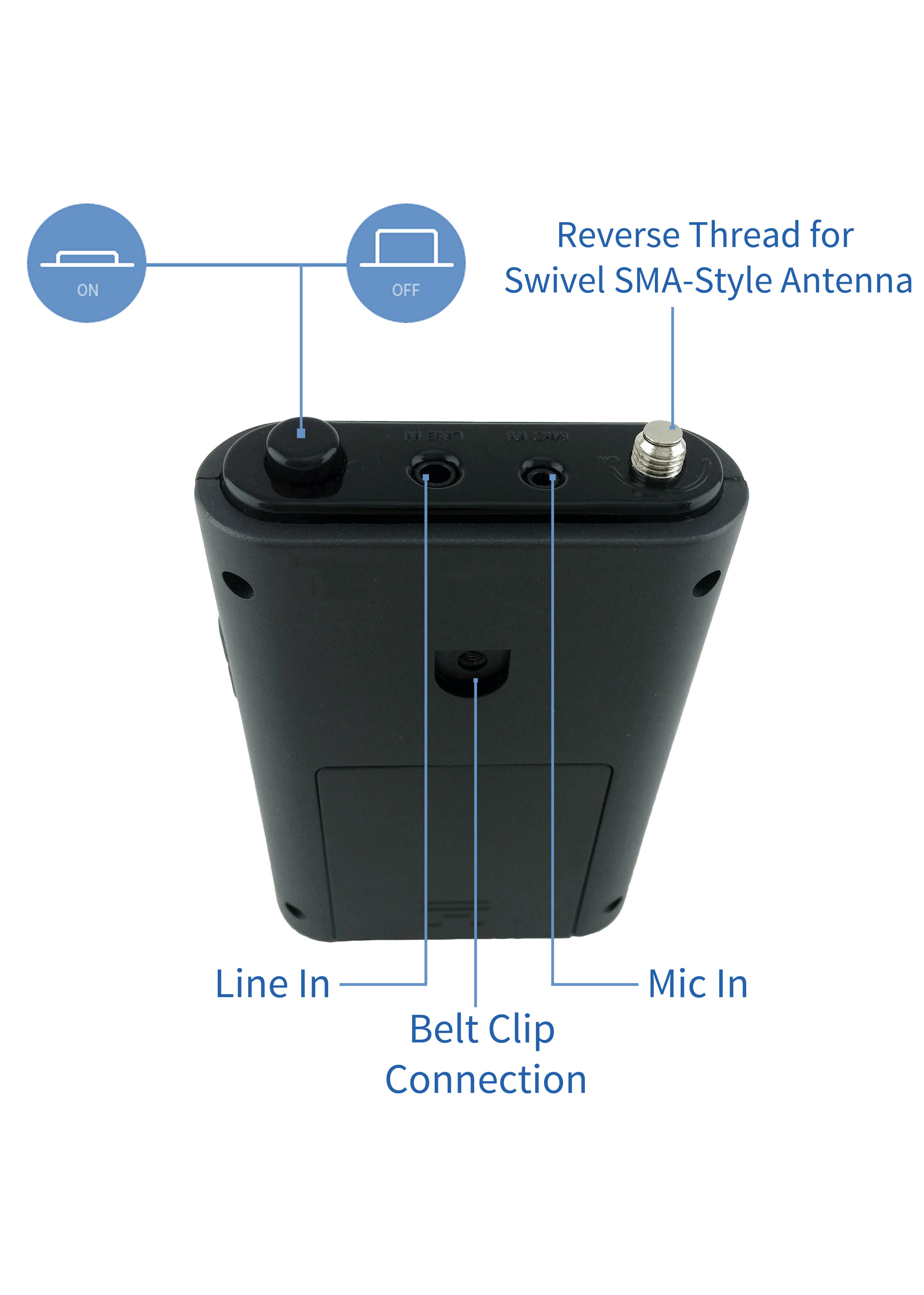 Multiple Powering Options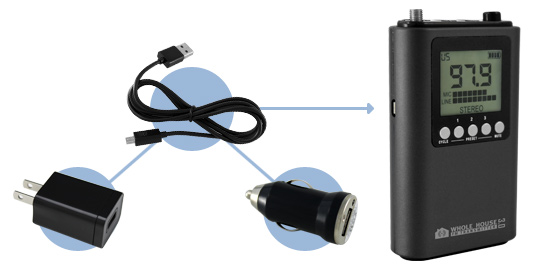 Use the all new Whole House FM Transmitter 3.0 at any location or anywhere you need it to broadcast your favorite audio sources. Power it with 3 "AA" batteries, 12/24V car utility adapter, USB power cable and 110/220 V wall adapter.
Removable Belt Clip Included
Clip onto your belt or pocket for better mobility, now you can move around with your transmitter and take anywhere. This is perfect for outdoor fitness instructors and tour guides who integrate the WHT 3.0 in their daily professions.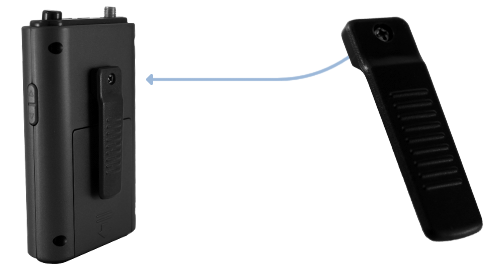 Broadcast Any Source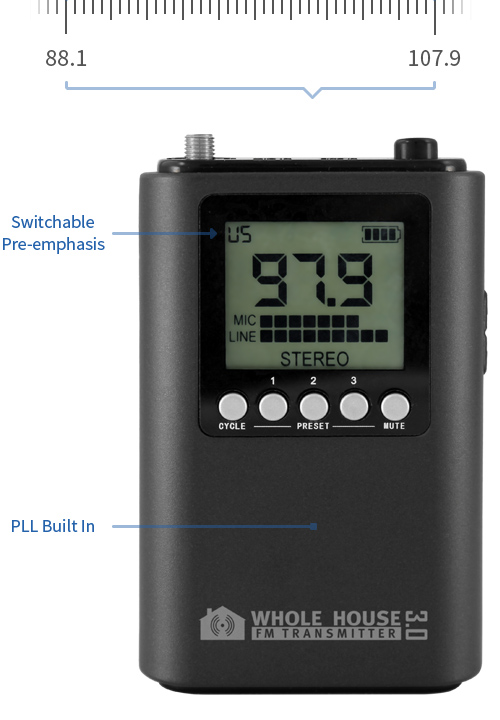 Included at no charge are the RCA stereo adapter, 3.5mm stereo audio adapter and stereo audio "Y" cable. Each of these adapters allows you to play any audio source with the new WHT 3.0. These included additions give it versatility and flexibility you'll enjoy.
Full FM Frequency Range
The WHT 3.0 utilizes the entire FM frequency. It doesn't matter if you are in a Brooklyn apartment or tucked behind a mountain in Washington. You are sure to find a frequency to broadcast your favorite audio source.
Transmits Using PLL Technology
To give you the best transmission signal possible we insisted that our FM Transmitter use PLL (or Phase Lock Loop) technology so you won't have to worry about the transmission drifting like on AM transmitters… or for that matter some other FM Transmitters out there on the market.
2 Pre-emphasis Options
US/EU Pre-emphasis
FM radio is a noisy medium. The noise has triangular distribution, meaning the noise is louder at higher frequencies. Without pre-emphasis, the high frequencies get buried in noise.
Pre-emphasis lifts high frequencies above the noise floor levels, enabling you to hear a clearer transmission signal.
That's why we now offer you the ability to match the pre-emphasis with your region's FM Radios.
Engineered to work any audio source, the NEW Whole House FM Transmitter 3.0 has limitless uses and broadcasts a clean and clear FM signal 150 feet in any direction.
Use it hundreds of ways and enjoy hours of your favorite audio sources.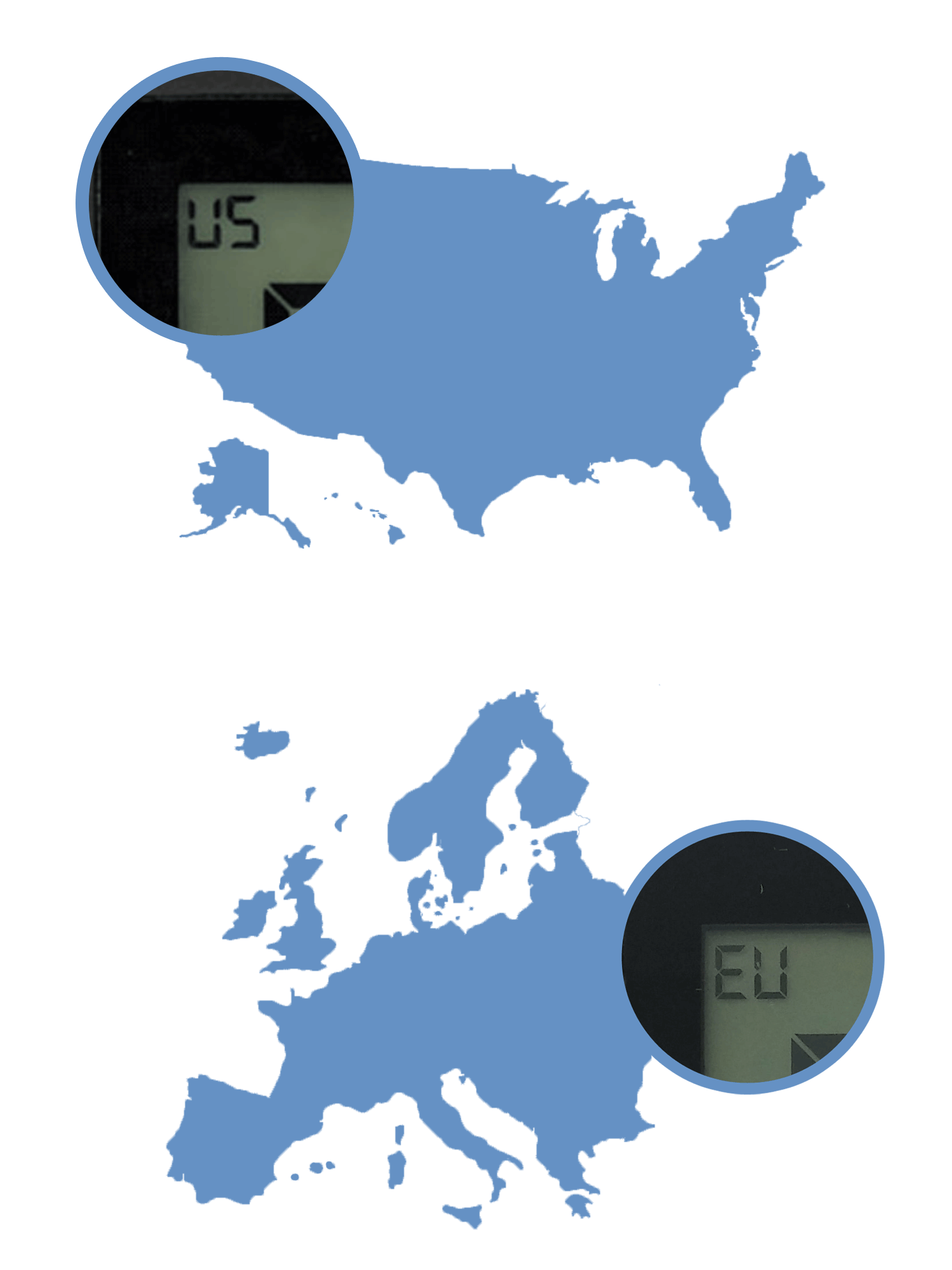 Technical Specs
Transmission Output
We guarantee a radius of 150 feet
Frequency Range
88.0 ~ 108.0 in 0.1 MHz steps
Frequency Saving
3 preset buttons
Pre-emphasis

US and EU Pre-emphasis Options

Power Options

110/220v AC Wall Adapter
12/24V DC Mobile Power Adapter
Computer USB Adapter
Internal 3 "AA" Battery Compartment

Audio Options

3.5mm (⅛") Stereo Jack
RCA Adapter (red/white)
2.5mm Microphone Port (mic not included)

Power Control
Mechanical Power Switch
Frequency Response
20Hz ~ 15KHz
Signal to Noise Ratio
>65dB
Audio Performance
0.2% distortion
Stereo Separation
40dB
RF Harmonica Rejection
Operation Time
Antenna Design

Reverse-threaded Screw Attachment
6.5″ Swivel SMA Style Antenna
Interchangeable Wire Extension

Case Design

Sturdy Shell – Secured by exterior screws
Flat bottom is easier to Balance
Ergonomic Shape

Belt Clip

Sturdy plastic clip
Easily unscrewed from back
Flat back when removed

Interface

Simplified Controls
Large Screen (1.34″ x 1.10″ – 81% Larger)
Easy to Read
Blue Backlighting

Tuning Design
Stable PLL Technology
Meets FCC Part 15 Rules
Yes, FCC ID: XOA WHFM3
Meets Canada IC Rules
Yes, IC ID: 8728A-WHFM3
Optional Accessories

Desktop Stand
Lavalier Microphone
Digital to Analog Audio Converter

Transmission Signal
FM Stereo or FM Mono
Dimensions
4.1″ L, 2.7″ W, .9″ D
Weight (w/ antenna)
3.7 ounces
User Manual
Click here to view the User Manual

Dave Pickhardt
Only one word to describe, phenomenal!
I had two of the gold editions for several years. One in the house and one in the car. They both worked awesome! So I did not think twice about ordering the new version.
Only one word to describe, phenomenal! Hooked up the house model today, they should call it the whole house and yard transmitter. Greatly enhanced sound quality, very high quality cables and connectors.
Comes with everything needed to just work perfectly in house or car. And now it can broadcast on any channel, including even numbered channels.
Just an awesome product. Well done! You improved on perfection.

Gary Siegfried
No More Long Cords
This is a great product. Listen to your TV or music in private on an FM radio with a simple mp3 player. Especially if your older and your hearing isn't so great anymore. No more long headphone cords.

Dennis C. Clark
Hail Hail!
I love the fact I can share my music with coworkers ! I have many who listen all day no fancy DJs , no ads just great music and I can play most any song that my listenners like . Great range and I also an EQ that makes the sound even better . Hail Hail !! Wholehouse FM Transmitter !!

Mark Wilson, Media Direct
I Couldn't Be More Pleased!
OH YES. We are in business now!! I couldn't be more pleased. Your Product rocks! As does, your customer service & support!!! Feel free to quote me on that

Mike Townsend
Great Sound Quality
Just received my first transmitter today, and I love it, i can transmit over actual stations in use and the quality is strong and loud and even better on stations that aren't in use. You guy's are true to your word. It sounds just as quality as if it was plugged into an aux input in the car stereo.

Rick Tschiggfrie
All I Hoped For
Just hooked up my transmitter…..AWESOME!!! All I hoped for, great piece of technology!!

Jaenice Bull
They were able to heard the whole service
I just want to say that the fm transmitter worked great, we have a old couple at our church that hasn't been able to hear much of our service and with this transmitter they were able to hear the whole service. Thanks for having such a great item.

John H. Wagner
Will make our Christmas displays better
My neighbor just bought the Whole House FM Transmitter and convinced me to buy one! This will make our block long Christmas displays even better!

R.D. Kuch
Fantastic Little gadget
Just got my WHFM…This little thing is AWESOME…Unbelievable…!! Unlike every other Xmtr I've used, this little box puts out a CLEAN stereo FM signal over my entire property. It's frequency stable and best of all it's powered right off the USB port..Unlike many other designs, your not limited to a few freqs at the bottom of the FM band. This thing, with a few clicks broadcasts anywhere from 88.1Mhz to 107.9 Mhz …..It's well made, intuitively obvious in it's use and full of nice surprises…(like the mic in and AGC)
Fantastic little gadget…! Thanks!

Dick Holden
Terrific Range
Can't believe I suffered for years with an inferior CCrane product. The WHFMT has terrific range and the AGC is a huge feature. Wonder why you don't mention the battery capability on your site or in your video…it was a pleasant surprise to find it was part of the package
Here's Why You Need to Act NOW!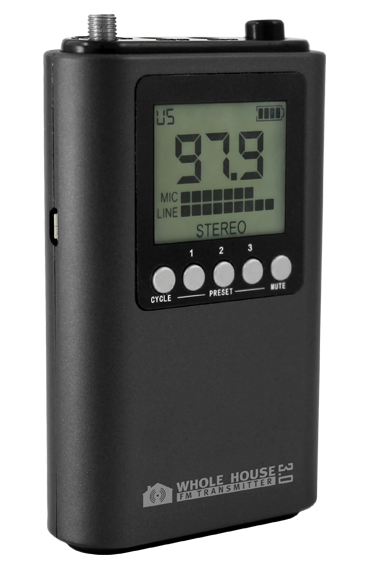 List Price: $250.00
Price: $124.99
Sale: $99.99 (with our $25 Facebook Coupon!)
The Broadcast Distance – broadcasts 150 ft. radius, guaranteed
Digital Screen Display – large, easy to read LCD screen display
Covers Full FM Band – 88.0 – 108.0 (even & odd frequencies)
Microphone Port – broadcast your voice life to any FM Radio
FCC Part 15 Compliant – FCC ID: XOAWH-FMT & IC: 8728A-WHFMT
Easy Plug & Play – Takes about 5 minutes to setup
Power it 4 Different Ways – 110/220V AC Wall Outlet, 12/25V DC Car Adapter, USB and 3 AA Batteries