Here's An FM Transmitter for Sirius XM Satellite Radio That Works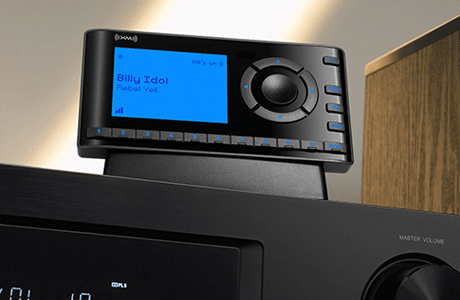 If you own a Sirius XM radio and you want your music to play through any FM radio, then read each word in this article and I'll reveal the one FM Transmitter that broadcasts over 150 feet in amazing fidelity.
Most Sirius XM owners enjoy the flexibility and range of music and shows like Howard Stern satellite radio offers.
The big problem for satellite owners is the inability to listen to their Sirius XM in different areas of their homes.
You place the FM radio in your kitchen and that's where you have to listen to it…
Until now!
Cover Your Entire Home and Yard in Sirius XM Music
Let me introduce you to the all new Whole House FM Transmitter 3.0
It's one of the best FM transmitters available for satellite radio owners. Here's why:
It can broadcast any audio source 150 feet to any FM radio. It will blanket every room in your home and will reach the back yard or workshop.
Sound clarity differs from transmitter to transmitter. If you opt for an FM transmitter with poor engineering then you've chosen poor sound quality. The Whole House 3.0 prides itself on the sound quality it transmits.
It offers amazing flexibility and allow you to play your Sirius XM on different FM frequencies.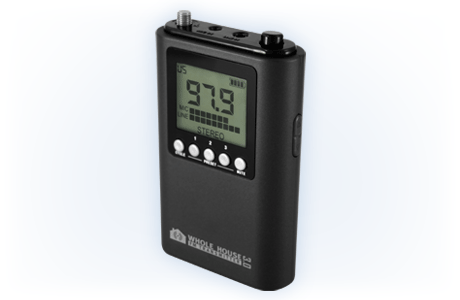 Transmit Any Audio Source 150 Feet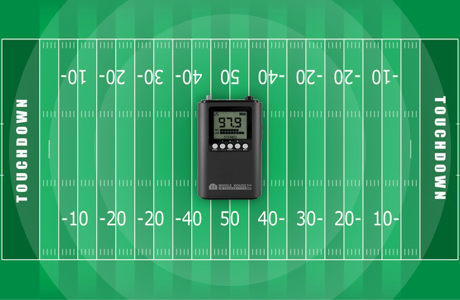 As mentioned, the Whole House FM Transmitter 3.0 is one of a few FM transmitters that can actually broadcast audio 150 feet.
It leaves the competition in a wake of futility.
As you may know, most competitors' only broadcast 3-10 feet.
You can't cover your whole house with only 3-10 feet of broadcast distance, can you?
Nah you can't…
So…if you crave the ability to cast a net of music over your entire home, you will want to discover more about the Whole House.
Take Advantage of Full FM Frequency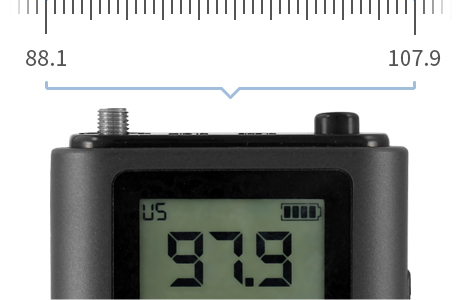 Many FM transmitters on the market are built with the ability to only choose 3-4 frequencies to broadcast your Sirius XM radio.
The Whole House FM Transmitter 3.0 has the ability to broadcast over the entire FM frequency band.
Choose anywhere from 81.1 to 107.9…the freedom to chose which frequency you use will allow you to fine tune your FM radio and transmitter to broadcast the furthest.
Why YOU Should Choose This FM Transmitter
Let's be honest…
I'm biased because I own a Whole House FM Transmitter 3.0 and I am writing this article on its website…so I don't want you making the mistake many people like yourself commit when they shop for an FM Transmitter.
All you have to do is read the competitor reviews on Amazon and you'll see why the Whole House FM Transmitter 3.0 crushes the competition.
Plus…with phenomenal U.S. based customer support, you get to lean on them if you need technical assistance.
See if any other company offers you lifetime support when you purchase their product.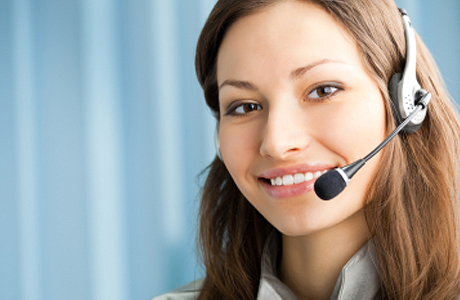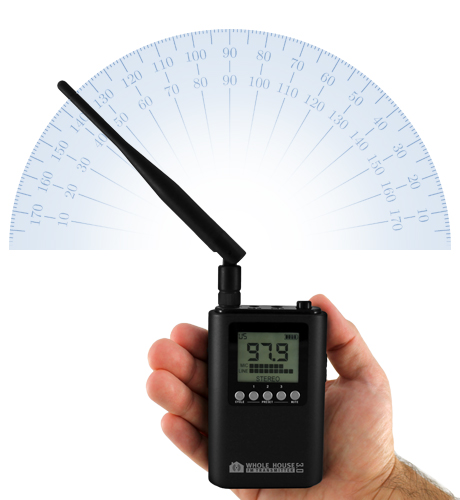 About the Size of a Deck of Cards
The new Whole House FM Transmitter 3.0 is about the size of a deck of cards. You can cradle it in the palm of your hand if you want.
It tucks neatly away and stays out of sight, so you can hide it behind your stereo and forget about it.
Stronger & More Durable Case
The all new sleek design is cast from a stronger plastic polymer to help safeguard against accidental drops and four screws keep critical components secured and in place.
Adjustable 6.5" Swivel Antenna
The new 6.5″ swivel SMA antenna adjusts and rotates for different reception angles, plus it's unscrews for better storage. Constructed from wound wire and protected by a hard plastic shell, the helical antenna is sturdy and durable.
Technical Specs
Transmission Output
We guarantee a radius of 150 feet
Frequency Range
88.0 ~ 108.0 in 0.1 MHz steps
Frequency Saving
3 preset buttons
Pre-emphasis

US and EU Pre-emphasis Options

Power Options

110/220v AC Wall Adapter
12/24V DC Mobile Power Adapter
Computer USB Adapter
Internal 3 "AA" Battery Compartment

Audio Options

3.5mm (⅛") Stereo Jack
RCA Adapter (red/white)
2.5mm Microphone Port (mic not included)

Power Control
Mechanical Power Switch
Frequency Response
20Hz ~ 15KHz
Signal to Noise Ratio
>65dB
Audio Performance
0.2% distortion
Stereo Separation
40dB
RF Harmonica Rejection
Operation Time
Antenna Design

Reverse-threaded Screw Attachment
6.5″ Swivel SMA Style Antenna
Interchangeable Wire Extension

Case Design

Sturdy Shell – Secured by exterior screws
Flat bottom is easier to Balance
Ergonomic Shape

Belt Clip

Sturdy plastic clip
Easily unscrewed from back
Flat back when removed

Interface

Simplified Controls
Large Screen (1.34″ x 1.10″ – 81% Larger)
Easy to Read
Blue Backlighting

Tuning Design
Stable PLL Technology
Meets FCC Part 15 Rules
Yes, FCC ID: XOA WHFM3
Meets Canada IC Rules
Yes, IC ID: 8728A-WHFM3
Optional Accessories
Transmission Signal
FM Stereo or FM Mono
Dimensions
4.1″ L, 2.7″ W, .9″ D
Weight (w/ antenna)
3.7 ounces
User Manual
Click here to view the User Manual
Here's Why You Need to Act NOW!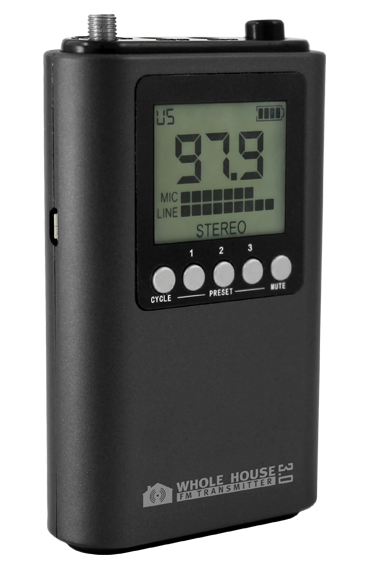 List Price: $250.00
Price: $124.99
Sale: $99.99 (with our $25 Facebook Coupon!)
The Broadcast Distance – broadcasts 150 ft. radius, guaranteed
Digital Screen Display – large, easy to read LCD screen display
Covers Full FM Band – 88.0 – 108.0 (even & odd frequencies)
Microphone Port – broadcast your voice life to any FM Radio
FCC Part 15 Compliant – FCC ID: XOAWH-FMT & IC: 8728A-WHFMT
Easy Plug & Play – Takes about 5 minutes to setup
Power it 4 Different Ways – 110/220V AC Wall Outlet, 12/25V DC Car Adapter, USB and 3 AA Batteries