The Shocking Truth How Noise In Your Correctional Facility Harms Correctional Officers and Inmates
How To Easily Reduce Noise Levels in Your Correctional Facility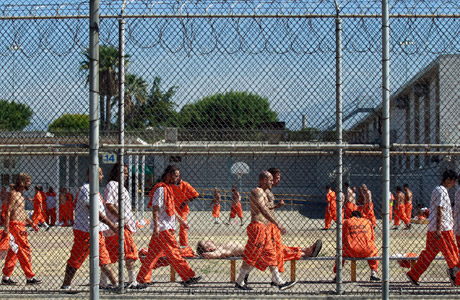 Scientists have proven loud noise can lead to mental and health problems.
Hypertension and stress are two ailments people suffer when subjected to sounds over 85 decibels.
Add prison overcrowding, budget cuts, and longer prison sentences and you can feel the tension and stress escalate between inmates and correctional officers.
If you don't take immediate steps to reduce the noise and stress in your facility, you are going to see a rise in major physical and mental health problems.
And it's not just me saying this…it's what medical science has proven!
Scientific Proof Reveals How Noise Sends Stress Levels Sky High
If you've worked in a correctional facility for more than a day and a half, then I'm sure you'll be nodding your head in agreement to the source of your noise problems.
Facility Design – It comes down to 3 things: type of material used, layout design and budget constraints. Construction with strong materials keep prisoners inside while also staying within budget constraints, but these restraints confine builders to construct using materials that reflect sound. Then you add an open space design and the noise starts to reverberate off the walls, growing louder.
Inmate Activity – You know this scenario all to well: Your inmates are hanging around the commons area, the TV is on, radios blare, inmates are talking and yelling, doors clank open and slam shut, chairs move… And all of this creates a collision between competing sounds, each one getting louder trying to overcome the other.
Overpopulation Problem – Take a cellblock that doesn't absorb sound and I don't care if you add more inmates or girl scouts, the noise level will soar. In fact, the US Department of Justice, on June 30, 2007 stated that American prisons and jails held 2,299,116 inmates. This accounted for 24.85% of the world's total inmate population. It's no wonder that capacity levels have exploded with the average Federal Prison at 153.8% of stated capacity and State Prisons at 112% of stated capacity.
Officers Doing Their Job – Whether they're walking around, talking on the radio, or opening and closing a door…it adds to the constant "battering ram" of noise. Of course, you can't blame them for doing their job and what it requires.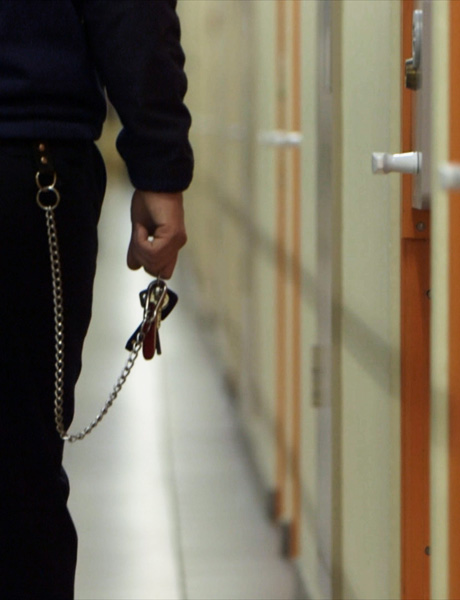 The Science Behind The Noise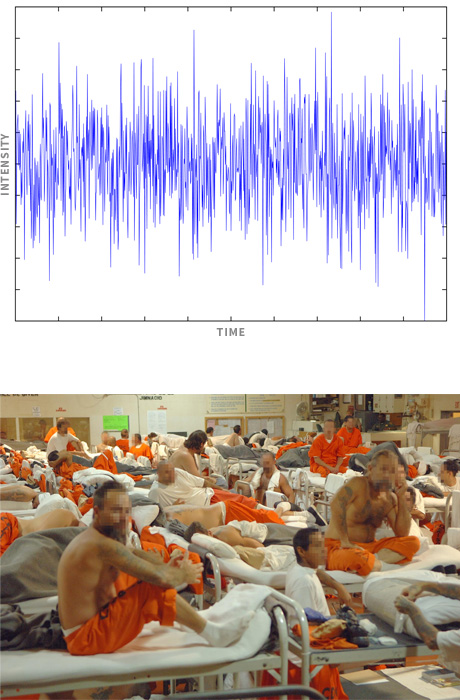 Here's the proven scientific evidence how noise causes major negative health problems.
First, we must set a foundation and start with defining some words that we will be using, they are "Noise" and "Annoyance".
Noise – is any sound that is unwanted regardless of level or intensity
Annoyance – noise of any type that would make an individual want to reduce, avoid or leave the noisy area regardless of how loud it is.
For example, let's say it's night time and as you sleep, you hear 2 neighbor kids outside your window talking with each other and playing basketball. The noise they are making isn't causing any legal violation or even close to causing you physical hearing damage, but since you find it unnecessary, it bothers you.
This is what scientists distinguish between noise and annoyance. It's the annoyance added to the noise that motivates you to get up and close the window.
Now what exactly makes a noise more or less annoying to a person?
A study conducted by Dr. P. N. Borsky titled "Noise as a Public Health Hazard"[13] was able to determine some specific factors, which are:
The noise is perceived as unnecessary
Those responsible for the noise are perceived as unconcerned about the exposed person's welfare
The exposed person dislikes other aspects of the environment
The person believes that noise is harmful to health
The noise is associated with fear
Auditory vs. Non-Auditory Effects of Noise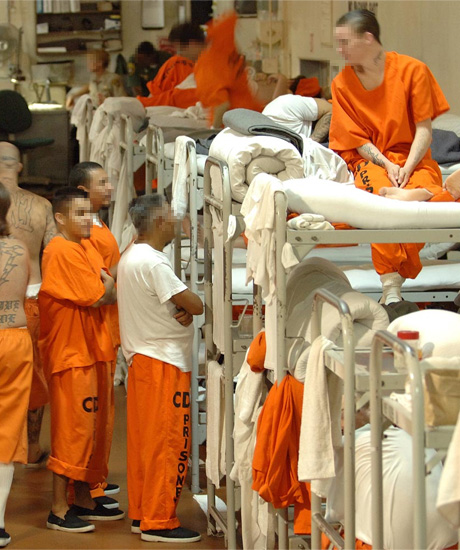 What we discussed above is called the "Non-Auditory Effects" of noise. This is distinguished from the "Auditory Effects" of noise. The difference between the two is:
Auditory Effects are defined as: The effects on the hearing organ and effects which are due to masking of auditory information (i.e. communication problems). This is officially covered by OSHA with specific guidelines and regulations every employer must adhere to…
Even for inmates who are working under the guidance of a correctional facility.
Non-Auditory Effects are defined as: The effects on health and well-being which are caused by exposure to noise with the exclusion to the auditory effects stated above. Such effects include performance effects, physiological responses and health outcomes, annoyance, and sleep disturbance. These issues are currently not covered by OSHA regulations.
Since most Correctional Facilities don't have problems meeting OSHA requirements regarding the Auditory Effects of noise we will focus more on the Non-Auditory Effects.
Some startling characteristics about noise that scientists have discovered:
Does the noise have to be "loud" to cause negative effects? No, studies showed that these negative effects can occur even at normal conversation ranges of 55 to 65 dB(A).[1][12]
Does the type of speech matter? No, it was shown the type of unwanted speech was irrelevant. It could be in a foreign language, backwards or even nonsense material.[1][12]
Can someone get use to the unwanted noise? No, even after long exposure to unwanted speech, the negative effects were still there. In other words a person can't "tune out people talking" no matter how long they are exposed to it.[2]
If noise is unpredictable and/or uncontrollable by the person, does this have any effect? Yes, 2 studies show that when a person can't predict or control the noise it heightens the negative effects caused by the unwanted noise.[3][4]
The Physical Effects of Noise on The Body:
Noise creates stress in the body regardless of choice
This stress ignites an alarm in your Sympathetic Nervous System (SNS) and automatically causes the instinctive "Fight or Flight" reaction in the body
Since this "Fight or Flight" instinct cannot be controlled it causes the release of Adrenaline into the body and some of the body's responses are:

Raised heart beat and blood pressure
Pupils focus
Waste elimination process decreases
Breathing becomes faster

If the "Fight or Flight" instinct from noise and stress is active for too long the Parasympathetic Nervous System (PNS) can't counter the effects in the body and bring it back into balance, or what is called by scientists as "homeostasis"
This prolonged stimulation to the body and inhibition of organs will cause physical ailments and promote stress related illnesses.
Some of these stress related illnesses are:
Physical fatigue in a person's body[5]
Elevated blood pressure and other biochemical measures[6]
Increased incidences of nausea and headaches[7][9]
Cardiovascular issues such as hypertension[8]
Myocardial Infractions (i.e. heart attacks)
Weakened immune system
Ulcers
In fact, doctors have reported that 75% to 90% of patient cases regarding heart disease, cancer and lung ailment also include stress related issues and complaints[8]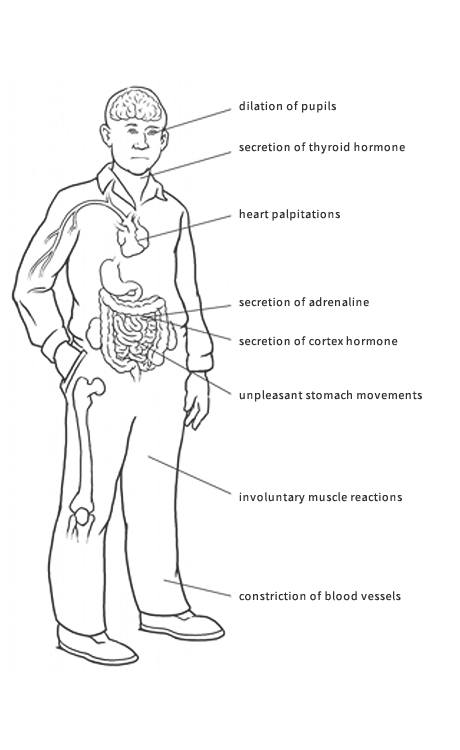 The Mental Effects of Noise on The Body
In addition to the body producing Adrenaline in a "Fight or Flight" state, the Lymbic system (which is referred to the "emotional brain") during prolonged stress, such as noise, will over stimulate the HPA axis part of your brain and cause the over production of Cortisol (i.e. stress hormones). Scientists have observed that the health problems with too much of these stress hormones are:
Increased incidences of nervous complaints, instability, argumentativeness, changes in mood and anxiety[7][9]
Feelings of impatience, tension, nervousness and the general inability to unwind at the end of the day.[8]
Social behavior problems
Increased aggressiveness
Problems with interpersonal relationships
Decreased positive helping behaviors
Neurotransmitters cannot function properly, which are the chemicals that brain cells use to communicate with each other
Lowered attention span
Hindered problem solving abilities
Memorization and reading comprehension problems
Now Let's Put This All Together
Now remember the "typical" inmate we referred to earlier with:
This heightened level of stress due to the noise level
With added annoyance factors
Compounding the matter is the inability to control, predict, or tune out the unwanted noise from the TV and others talking
And he cannot tune it out no matter how long he is exposed to it
Then you add on…
The inmate is in an environment he dislikes
The noise is perceived as unnecessary and
Is caused by others who do not seem to care about his well-being!
Even if the inmate is not consciously aware of it, his body is still automatically releasing Adrenaline and Cortisol (i.e. stress hormone) into the blood system and since he can't leave the prison he never has a chance to "decompress" from the buildup of stress.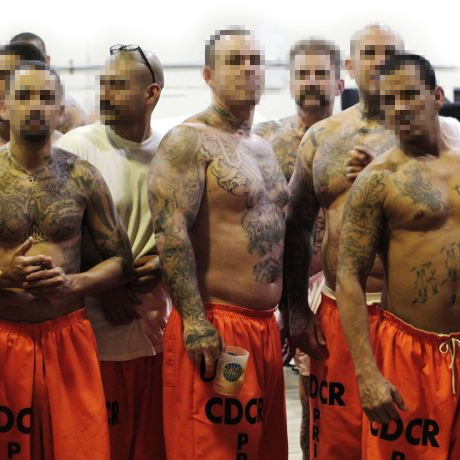 Even Sleep Won't Make It Go Away!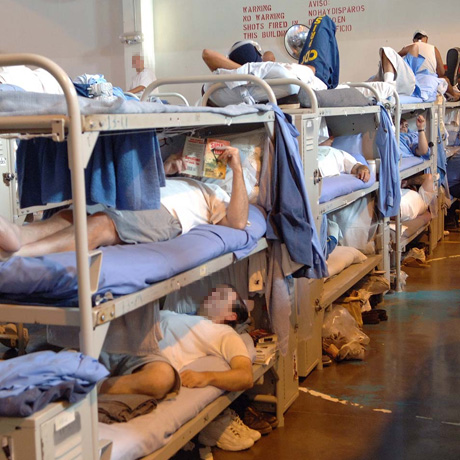 And to top it off, even going to sleep doesn't help, because studies mentioned above show that even 2 days after exposure to noise, the body still had not fully recovered.[10][11]
So now this constant stream of stress coming from the noise keeps building and building in the inmate every day until he starts to experience the extended side effects of stress, which are:
Feeling physically fatigued (which then adds even more to his stress)
Starts showing signs of social behavior problems
A decrease in positive helping behaviors
Increased aggressiveness
Elevated blood pressure and heart rate
Displays problems with interpersonal relationships
Now Keep In Mind, I'm Not Making This Stuff Up,
Scientific Research Confirms All Of This!
How to Combat Prison Noise
This is where the Whole House FM Transmitter 2.0 can help you reduce noise in your correctional facility. The Whole House FM Transmitter 2.0 has successfully helped correctional facilities across America lower their noise levels and improve officer and prisoner safety.
Conversations – Inmates watching TV and listening with the use of an FM transmitter are less likely to strike up a conversation with someone else.
Reduced conversation between inmates lowers noise levels
Eliminates inmates who like to sit around the TV and start conversations that interrupt everyone else who wants to watch the TV.
Listen away from the TV– inmates no longer have to sit in front of the TV, they can be further away.
Overcrowding shrinks your resources. For example, not enough chairs for everyone to sit and watch TV, but now you can sit in a chair further away and still enjoy the TV.
This setup allows inmates confined to their cells to still hear the television.
Build Incentives for Appropriate Inmate Behavior – With the TV speakers turned off, and a inmate starts acting up, you can take away the FM Radio until behavior improves.
Or on the positive side, if they behave a desired way, you can reward them with an FM Radio to use.
Help Prevent Inmate Conflicts and Fighting – It has happened before, maybe even in your facility, where inmates will turn up the volume of the TV to cover up a fight between inmates.
Using our FM Transmitter would stop that from ever happening. You'll provide safer conditions for your inmates and better monitoring of the inmates by your officers.
Less Aggression By Inmates – Studies show that noise creates stress, which in turn releases Adrenaline and Cortisol (i.e. stress hormones) into the body. If an inmate cannot minimize the noise or at least get a release of that stress, the body cannot return to a balanced state which is proven to cause among other things:
Increased aggressiveness
Decreased helping behavior
Problems with interpersonal relationships
A general inability to unwind
What that means is this: when you turn off the TV sound and broadcast it to FM Radios you will help reduce the noise in your cell block which will directly help lower stress levels and increase the security of your correctional officers.
The Whole House FM Transmitter 2.0 is the perfect solution to your elevated noise levels.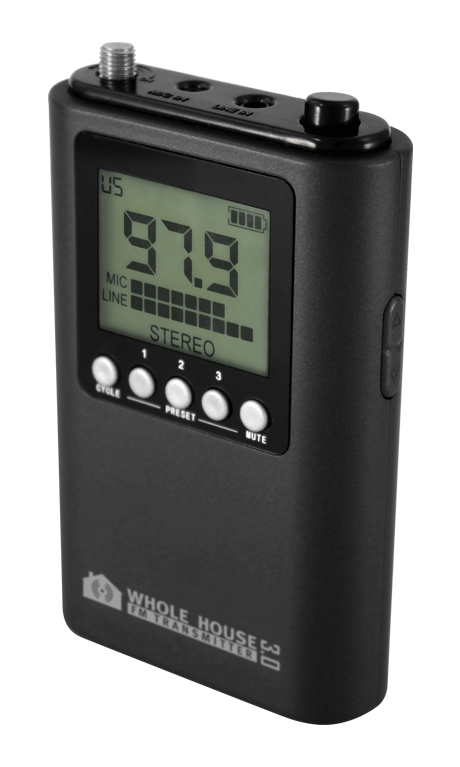 Technical Specs
Transmission Output
We guarantee a radius of 150 feet
Frequency Range
88.0 ~ 108.0 in 0.1 MHz steps
Frequency Saving
3 preset buttons
Pre-emphasis

US and EU Pre-emphasis Options

Power Options

110/220v AC Wall Adapter
12/24V DC Mobile Power Adapter
Computer USB Adapter
Internal 3 "AA" Battery Compartment

Audio Options

3.5mm (⅛") Stereo Jack
RCA Adapter (red/white)
2.5mm Microphone Port (mic not included)

Power Control
Mechanical Power Switch
Frequency Response
20Hz ~ 15KHz
Signal to Noise Ratio
>65dB
Audio Performance
0.2% distortion
Stereo Separation
40dB
RF Harmonica Rejection
Operation Time
Antenna Design

Reverse-threaded Screw Attachment
6.5″ Swivel SMA Style Antenna
Interchangeable Wire Extension

Case Design

Sturdy Shell – Secured by exterior screws
Flat bottom is easier to Balance
Ergonomic Shape

Belt Clip

Sturdy plastic clip
Easily unscrewed from back
Flat back when removed

Interface

Simplified Controls
Large Screen (1.34″ x 1.10″ – 81% Larger)
Easy to Read
Blue Backlighting

Tuning Design
Stable PLL Technology
Meets FCC Part 15 Rules
Yes, FCC ID: XOA WHFM3
Meets Canada IC Rules
Yes, IC ID: 8728A-WHFM3
Optional Accessories
Transmission Signal
FM Stereo or FM Mono
Dimensions
4.1″ L, 2.7″ W, .9″ D
Weight (w/ antenna)
3.7 ounces
User Manual
Click here to view the User Manual
Here's Why You Need to Act NOW!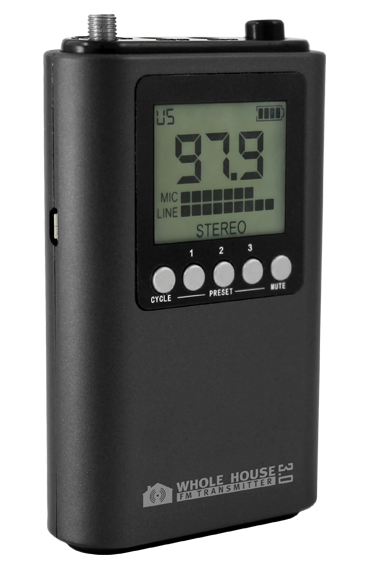 List Price: $250.00
Price: $124.99
Sale: $99.99 (with our $25 Facebook Coupon!)
The Broadcast Distance – broadcasts 150 ft. radius, guaranteed
Digital Screen Display – large, easy to read LCD screen display
Covers Full FM Band – 88.0 – 108.0 (even & odd frequencies)
Microphone Port – broadcast your voice life to any FM Radio
FCC Part 15 Compliant – FCC ID: XOAWH-FMT & IC: 8728A-WHFMT
Easy Plug & Play – Takes about 5 minutes to setup
Power it 4 Different Ways – 110/220V AC Wall Outlet, 12/25V DC Car Adapter, USB and 3 AA Batteries
References:
Here are the references to the material quote on this page.
[1] Jones D. 1989, Progress and prospects in the study of performance in noise. In: Proceedings of the 5th International Congress on Noise as a Public Health Problem, (eds) Berglund B., Berglund U., Karlson J. and Lindvall T., Stockholm: Swedish Council for Building Research.
[2] Smith A.P. 1985, The effects of different types of noise on semantic processing and syntactic reasoning. Acta Phsycol. 58. 263-273
[3] Carter N.L. and Beh H.C., 1987, The effect of intermittent noise on vigilance performance. J. Acoust. Soc.Am. 82. 1334-1341
[4] Glass D.C., Singer J.E. and Friedman L.N. 1969, Psychic cost of adaptation to an environmental stressor. J. Person. Soc. Psychol. 12. 200-210
[5] Holding D. H., Loeb M. and Baker M. A., 1983, Effects and aftereffects of continuous noise and computation work on risk and effort choices., Motiv. Emot. 7. 331-344
[6] Insing H., Dienel D., Gunther T. and Markert B. 1980, Health effects of traffic noise. Int. Arch. Occup. Environ. Hlth. 47. 179-190
[7] Cohen A. 1969, Effects of noise on psychological state. In: Noise as a Public Health Hazard, (eds) Ward W.D. and Fricke J., Washington, DC: American Speech & Hearing Association.
[8] Ltc. Babeu, L. A., Maj Cameron, C., Non-auditory Effects of Noise Exposure, US Army Research Laboratory, AMEDD Center & School, PPT file at: www.nehc.med.navy.mil/downloads/occmed/hctoolbox/Toolbox_files/[[Non_Auditory_Effects_of_Noise]].ppt
[9] Miller J.D. 1974, Effects of noise on people. J. Acoust. Soc Am. 56. 729-764
[10] Blois R., Debilly G. and Mouret J. 1978, Daytime noise and its subsequent sleep effects. In: Proceedings of the 3rd International Congress on Noise as a Public Health Problem, (eds) Tobias J.V., Jansen G. and Ward W.D., Washington, DC: The American-Speech-Language-Hearing Association.
[11] Smith, A.P. and Broadbent, D.E., 1991, Non-auditory effects of noise at work: a review of the literature, HSE Contract Research Report No. 30/1991
[12] Cohen S. and Spaceapan S. 1984, The social psychology of noise. In: Noise and Society, (eds) Jones D.M. and Chapman A. J., London: Wiley, 221-246
[13] Borsky P.N. 1969, Effects of noise on community behavior. In: Noise as a Public Health Hazard, (eds) Ward W.D. and Fricke J.E., Washington, DC: The American Speech-Language-Hearing Association.
[14] John Howard Society of Alberta, 1996, Prison Overcrowding. http://www.johnhoward.ab.ca/PUB/C42.htm