WHOLE HOUSE FM TRANSMITTER 3.0
Designed with Your Needs in Mind
150 Foot Range
Broadcast 150 feet in all directions in rich, static-free audio. The Whole House FM Transmitter 3.0 reaches every corner of your house, yard, garage, office space and car.
Adjustable Antenna
The 6.5″ swivel SMA antenna makes adjusting the angle and rotation easy, plus it's reverse threaded and can be unscrewed for better storage. It's sturdier too!
Audio & Mic Volume
Use the microphone at the same time as any audio source, plus you can easily adjust the volume of each separately. Perfect for karaoke, tour guides, or translation.
Four Power Methods
With the USB power cord and free power adapters included in every box, you can power up with any AC wall outlet, 12/24V auto port, USB port, or "AA" batteries.
Durable Case
The sleek design is cast from a stronger plastic polymer to help safeguard against accidental drops, and is held together by stronger screw fasteners.
Improved Interface
Large LCD and blue backlighting makes reading easy, and the interface controls are more flexible, giving you more control over every feature.
Included with Every Whole House 3.0
Optional Accessories Available For Purchase
Get in on this Special Offer before it's too late!
$250 $124.99
Included with every order:
Lifetime Customer Support
Six Free Accessories
1 Year Warranty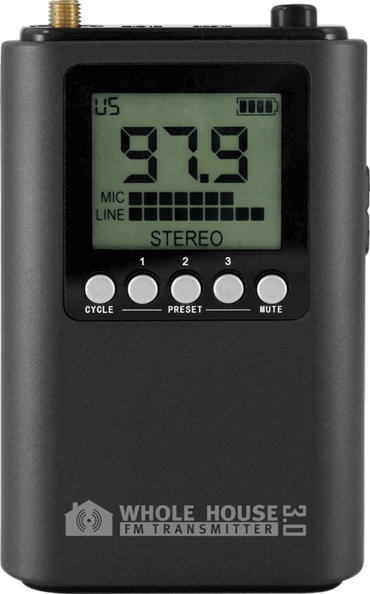 Discover what makes our
Transmitter best in its class
See More Info
How Our Customers are Using Their Transmitter