Broadcast Your Fitness Club's Television to Every Treadmill, Bike, Elliptical and Rowing Machine
How To Give Your Gym Members a Better Fitness Experience
When you think about your fitness club membership and the different ways you can keep them happy, one method always comes to mind.
You and I both know that gym members spend large amounts of time on your cardio equipment.
As they grind away on your machines, two things help them pass the time.
Can you guess it?
Music and television.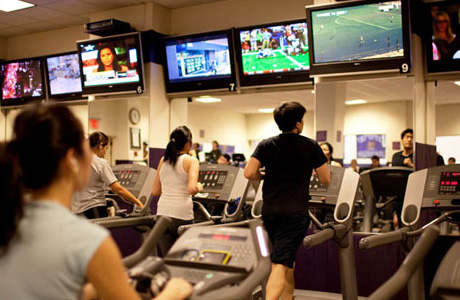 Tune In to the TV while Working Out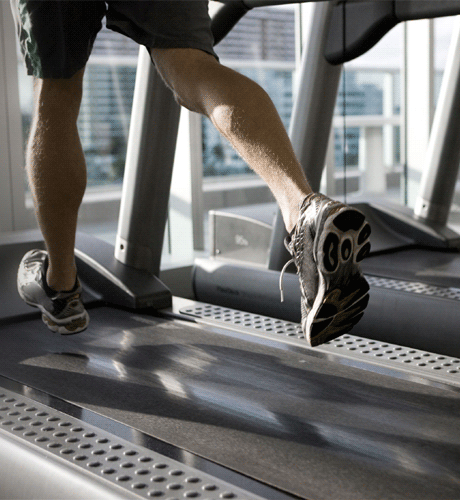 And not only does your gym membership want to listen to music or watch television while they workout… they want to choose the television station they watch and they want to hear it.
Why build a bank of televisions unless your members have the ability to hear what's being played?
Let me tell you a brief story…
The first time I went to a gym was in this new modern facility that had just opened up in Kalamazoo, MI.
Well I didn't really notice it at first, but they had a bank of televisions above their treadmill machines.
There were six televisions hovering above us, one for each treadmill. Now here's the kicker, they had stations like ESPN, CNN and Fox News broadcasting during gym hours.
Each treadmill had a remote velcroed to it so switching channels was a breeze, which was really cool.
But… they wouldn't allow any sound.
They had a sign on each television that read: DO NOT TURN UP VOLUME.
Instead of using an FM transmitter to broadcast the sound to the treadmills, each television was set up to display subtitles.
Smart Gym Owners Use an FM Transmitter
We couldn't hear the television while we pounded out miles on the treadmill. Have you ever tried to read subtitles while grinding through a 45 minute cardio routine?
It becomes dangerous real quick.
That's why smart gym owners like yourself should implement an FM transmitter to broadcast music or television selections to your gym members.
Here's how it works:
Take an FM transmitter and plug the television audio source into it. The FM transmitter will broadcast the sound to any FM radio located inside your fitness club.
Most gym owners place very small FM radios on their fitness machines, so their members can watch and listen to the television.
But not just any FM transmitter will do. You need one with some power, you need one that will broadcast at least 150 feet so you can cover every nook and cranny of your fitness center.
Only one wireless transmitter answers the call.
I want to share what gym owners across the country are using.
The Whole House FM Transmitter 3.0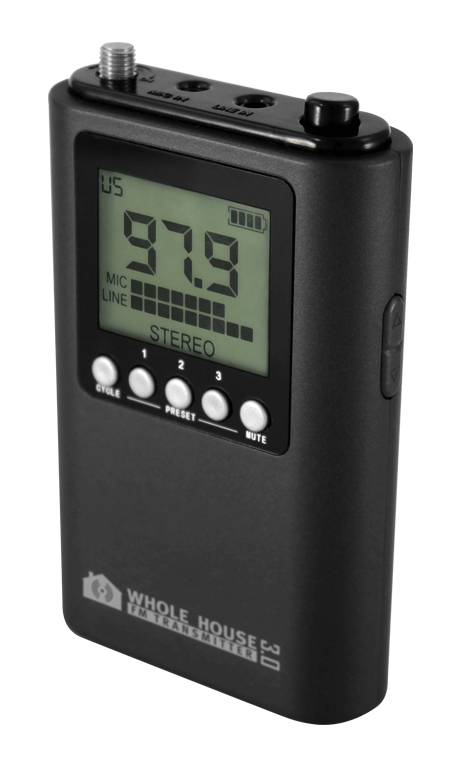 The Whole House 3.0 transmits any audio source  150 feet in any direction. It's got the muscle to cover your entire gym in any audio source you choose.
All your members need is an FM radio to hear what you broadcast.
So…
Place a little FM radio receiver on your gym equipment or have them purchase a radio of their own and your gym members will be able to watch television, and hear it too. Their cardio workouts will zip by and you will have a happy and content membership, who will want to spend more time in your gym, and more time enjoying your fitness facility… which means more money spent in your facility.
Of course you might be wondering why the Whole House FM Transmitter 3.0 is better than other wireless systems.
Here's a few reasons we beat the pants off our competitors' like Broadcastvision and Cardio Theater:
Broadcast 150 feet in any direction
Better pricing structure
Proven track record
Utilizes full public FM band
Compact size (size of a deck of cards)
Uses analog signal and can convert it to digital
These are only a few reasons why you should consider the all new Whole House
It's lower in price and affordable when compared to the competition.
If you're a gym owner and you want to give your gym membership a better experience, then a Whole House FM transmitter 3.0 will be a step in the right direction.
Technical Specs
Transmission Output
We guarantee a radius of 150 feet
Frequency Range
88.0 ~ 108.0 in 0.1 MHz steps
Frequency Saving
3 preset buttons
Pre-emphasis

US and EU Pre-emphasis Options

Power Options

110/220v AC Wall Adapter
12/24V DC Mobile Power Adapter
Computer USB Adapter
Internal 3 "AA" Battery Compartment

Audio Options

3.5mm (⅛") Stereo Jack
RCA Adapter (red/white)
2.5mm Microphone Port (mic not included)

Power Control
Mechanical Power Switch
Frequency Response
20Hz ~ 15KHz
Signal to Noise Ratio
>65dB
Audio Performance
0.2% distortion
Stereo Separation
40dB
RF Harmonica Rejection
Operation Time
Antenna Design

Reverse-threaded Screw Attachment
6.5″ Swivel SMA Style Antenna
Interchangeable Wire Extension

Case Design

Sturdy Shell – Secured by exterior screws
Flat bottom is easier to Balance
Ergonomic Shape

Belt Clip

Sturdy plastic clip
Easily unscrewed from back
Flat back when removed

Interface

Simplified Controls
Large Screen (1.34″ x 1.10″ – 81% Larger)
Easy to Read
Blue Backlighting

Tuning Design
Stable PLL Technology
Meets FCC Part 15 Rules
Yes, FCC ID: XOA WHFM3
Meets Canada IC Rules
Yes, IC ID: 8728A-WHFM3
Optional Accessories
Transmission Signal
FM Stereo or FM Mono
Dimensions
4.1″ L, 2.7″ W, .9″ D
Weight (w/ antenna)
3.7 ounces
User Manual
Click here to view the User Manual
Here's Why You Need to Act NOW!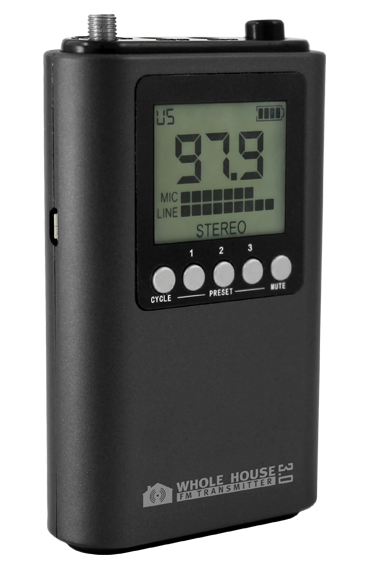 List Price: $250.00
Price: $124.99
Sale: $99.99 (with our $25 Facebook Coupon!)
The Broadcast Distance – broadcasts 150 ft. radius, guaranteed
Digital Screen Display – large, easy to read LCD screen display
Covers Full FM Band – 88.0 – 108.0 (even & odd frequencies)
Microphone Port – broadcast your voice life to any FM Radio
FCC Part 15 Compliant – FCC ID: XOAWH-FMT & IC: 8728A-WHFMT
Easy Plug & Play – Takes about 5 minutes to setup
Power it 4 Different Ways – 110/220V AC Wall Outlet, 12/25V DC Car Adapter, USB and 3 AA Batteries