Why a Former Michigan Banker Spent Six Years Developing the Farthest Broadcasting FM Transmitter Available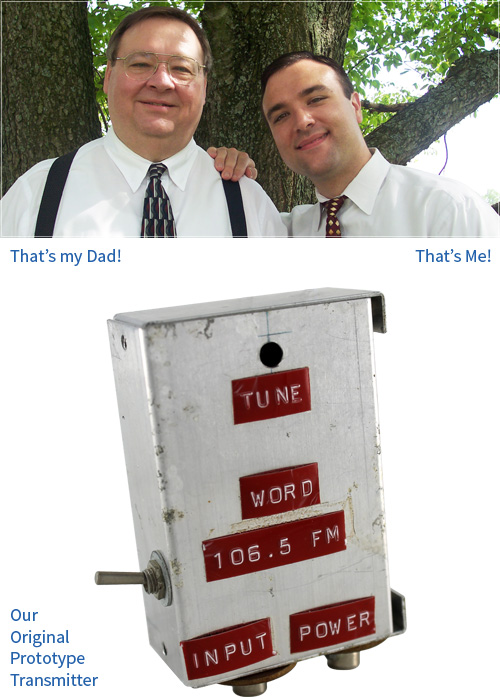 Here's Our Story:
My father Tom Webb Sr. worked many years for communication giant MCI, as one of their leading salesmen. After the Worldcom merger and disaster, he was faced with a tough decision:
He could either look for new employment, or follow his passion and start his own business.
You see, several years ago my dad was looking for a way to play audio from his radio throughout his home, while also eliminating commercial radio. He had grown tired of hearing commercials interrupt his favorite music and radio shows.
So he built his own FM transmitter using a schematic he purchased, an auto-reverse cassette tape player, and a tractor battery to power it.
Using the cassette player, the sound quality was scratchy and of course the cassette player would wear out every month from overuse, sending him back to the store for a new one every month.
Then he had to recharge the battery every single night because the transmitter would pick up too much noise from the outlet, which made the transmission sound even worse.
The whole system took up most of our closet, and with the cassette players breaking every month, constantly changing the tapes, and keeping the battery charged… it became expensive.
If it wasn't for sheer determination… or what my mom deemed stupidity… he would have waved the white flag and surrendered.
But he refused to give up his dream of an FM transmitter he could run 24/7 without any issues.
Here's What Happened Next
Seven or eight years ago, technology finally caught up to his dream.
You see, FM Transmitters advanced during that time… but for some reason he still couldn't find a fully assembled transmitter that would cover the entire home, yet would not need a license to operate (i.e. fall under the FCC's Part 15 rules).
He was at the end of his rope… it seemed like every transmitter he tried would only broadcast the audio 15-30 feet, which covered the living room, but not the entire house.
So after searching the market, running rigorous tests, and still finding none which worked… he came to the conclusion that he needed to have his own FM Transmitter made. This was his opportunity to follow his passion and start his own business.
However… he knew every transmitter had to:
Be powerful enough to cover the entire home
Arrive already assembled
Be simple enough that anyone can use it
Come loaded with tons of features
Be small enough to easily fit in your hand
So after months of exhaustive research… testing and tweaking… the first Whole House FM Transmitter was born.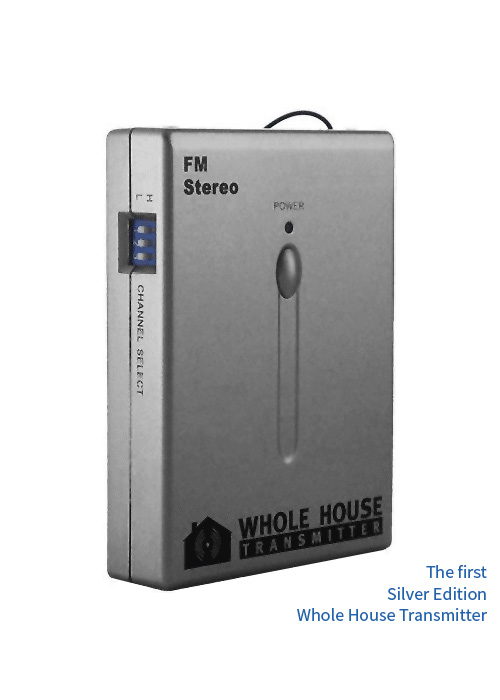 The Dream of Running His Own Business Finally Came True
Luckily, he asked me to leave my job at Fifth Third Bank to help him get things off the ground and running. In 2004, we introduced the first silver edition Whole House FM Transmitter.
It did okay and we were happy to get a product from conception through the production process for the first time… yet, we knew we needed something a little better.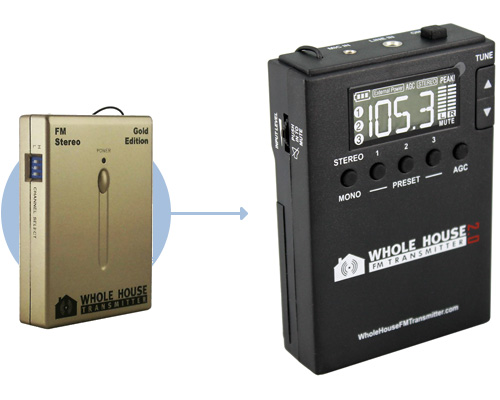 It was around 2006 when we developed a new transmitter called the Whole House FM Transmitter Gold Edition.
Together we ended up selling thousands of these to people across the globe… the distance it generated won praise from countless audio enthusiasts.
But we didn't stop there… we took all our customer feedback over the next six years, compiled it, calculated it, and redesigned the Gold Edition into the 2.0 version in 2009.
This upgraded version was more versatile and flexible than previous models.
Now you could use the entire FM frequency, plug a microphone in, and have 3 preset options.
Introducing the Whole House FM Transmitter 3.0
In late 2012 we decided that it was time for the next generations of Whole House FM Transmitter so we gathered everyone on our team together here in Portage, MI and asked what our customers liked and disliked about the 2.0 version.
What they revealed blew me away!
It was at that exact moment in our small meeting room I decided we needed to immediately engineer something even better for our customers.
We then hired a consultant to travel around China with me for 2 weeks and visit with manufacturers and find the best to build our new 3.0 version.
The Whole House FM Transmitter 3.0 design was going to come straight from valued customer feedback, which included:
An all new 6.5" adjustable and removable SMA-style antenna
Dual mic and inline volume controls
Regional US/EU Pre-emphasis noise reduction
A durable case built from a stronger plastic polymer and held together by four screw fasteners
And an improved user interface with a larger LCD screen and more intuitive controls
All of these new features came direct from our customer feedback.
These customer driven innovations continue to help the Whole House name evolve and deliver a high quality product backed by high quality customer support.
My goal is to produce a transmitter you and your family can enjoy for years to come, and I believe the Whole House 3.0 will.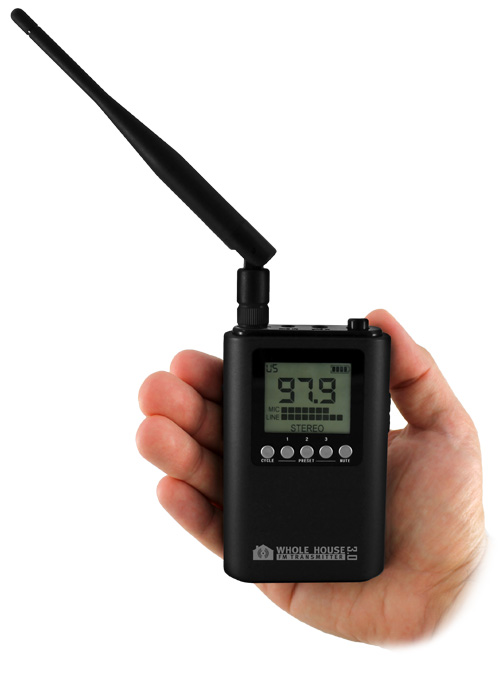 Here's Why You Need to Act NOW!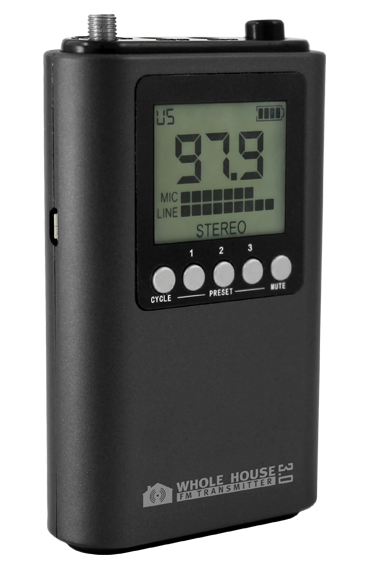 List Price: $250.00
Price: $124.99
Sale: $99.99 (with our $25 Facebook Coupon!)
The Broadcast Distance – broadcasts 150 ft. radius, guaranteed
Digital Screen Display – large, easy to read LCD screen display
Covers Full FM Band – 88.0 – 108.0 (even & odd frequencies)
Microphone Port – broadcast your voice life to any FM Radio
FCC Part 15 Compliant – FCC ID: XOAWH-FMT & IC: 8728A-WHFMT
Easy Plug & Play – Takes about 5 minutes to setup
Power it 4 Different Ways – 110/220V AC Wall Outlet, 12/25V DC Car Adapter, USB and 3 AA Batteries