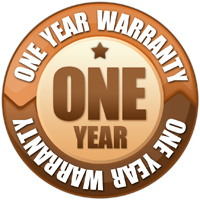 FREE 1 Year Warranty Upgrade on All Items
We are offering a 1 Year warranty upgrade from the standard 90-days warranty! We also offer a 2 Year and 3 Year warranty upgrade too at a discounted price of $14.99 and $19.99 respectively. Please read below for more details about the warranty terms and conditions.
Warranty Terms and Conditons
Whole House FM Transmitter warrants that its products shall be free from defects in materials or workmanship, with the exceptions stated below. This warranty starts from the date of purchase and runs for the timeframe selected at the time of purchase (i.e. a 1-year, 2-year or 3-year warranty).
Whole House FM Transmitter will, at its option, repair or replace any product that proves to be defective in material or workmanship. If your product is no longer being manufactured, or is out of stock, at its option, Whole House FM Transmitter may replace your product with a similar or better product.
This warranty DOES cover for 1 (one) time, any malfunction or failure that occurs as a result of accident (i.e. unintentional damage) or factory defects. However, the refund policy does become immediately null and void.
This warranty DOES NOT cover any defect, malfunction or failure that occurs as a result of: abuse; misuse; alteration; modification; failure to follow the product directions; or use with improper, unintended or faulty equipment. Further, removing any warranty labels; opening up the unit; or removing any pieces from the product will immediately render your warranty null and void. This warranty also does not cover any losses from theft or misplacing the product.
IF ANY OF THE EVENTS STATED ABOVE DO OCCUR, EXCLUDING FACTORY DEFECTS, THE 30-DAY REFUND POLICY BECOMES IMMEDIATELY NULL AND VOID.
Whole House FM Transmitter is not responsible for special, incidental, or consequential damages from any breach of warranty, or any other legal theory, including but not limited to, lost profits, downtime, goodwill, damage to or reprogramming or reproducing, any program or data stored in or used with Whole House FM Transmitter products.
Some states do not allow the exclusion or limitation of incidental or consequential damages or exclusion of implied warranties, so the above limitations or exclusions may not apply to you. This warranty gives you specific legal rights, and you may also have other rights that vary from state to state.
To get a covered product repaired or replaced, you must contact Whole House FM Transmitter during the warranty period please call (888) 674-6226 and follow the prompts to the tech support line.
Please Note The Following
Return within 5 days of the RMA being issued to avoid delays or the item being refused delivery.
You should insure the shipment with the appropriate amount since you are responsible for the product until it arrives at Whole House FM Transmitter.
Return shipments will be at the customer's expense; we also do not refund shipping fees you originally paid when purchasing.
Please also include your purchase invoice with proof of insurance
Remember, NO RMA = NO SERVICE. If we don't know who sent the item we won't know who to send a replacement to.
These stated warranties and remedies do not extend to any other products used with this product. No Whole House FM Transmitterdealer, agent, or employee is authorized to make any modification, extension, or addition to this warranty.
THE WARRANTY AND REMEDIES SET FORTH ABOVE ARE EXCLUSIVE IN LIEU OF ALL OTHERS, WHETHER ORAL OR WRITTEN, EXPRESSED OR IMPLIED.