The Whole House FM Transmitter 3.0 is packed with so many upgraded features, its difficult for us to compare it to lesser transmitters like the Griffin iTrip.
With a redesign driven by customer innovations, the NEW 3.0 broadcasts further, uses multiple powering options and comes with a direct in line microphone port. The Griffin iTrip doesn't stand a chance in a head to head comparison with the improvements we made to the 3.0.
With superior broadcast distance and unsurpassed flexibility, you can clearly see why we offer a generous 120 day risk free trial and 1 year warranty.

Griffin iTrip Universal

Whole House FM Transmitter 3.0
Transmission
Frequency Options
88.1 – 107.9 MHz
88.1 – 107.9 FM
Broadcast Distance
10-30 Feet
150 Feet In All Directions
Power Sources
AC Wall Outlet
No
Yes
12v Car Power Adapter
No
Yes
Computer USB
No
Yes
Batteries
2 "AAA"
Yes
Audio Sources
iPods & iPhones
Yes
Yes
Other MP3 Players
Yes
Yes
TVs, DVD Players, Home Stereo, Satellite Radio, etc
No
Yes
Computers, Laptops, Netbooks, etc
Yes
Yes
Direct Input Microphone
No
Yes
Other Audio Sources
Yes
Yes
Technical Specs
Transmission Output
We guarantee a radius of 150 feet
Frequency Range
88.0 ~ 108.0 in 0.1 MHz steps
Frequency Saving
3 preset buttons
Pre-emphasis

US and EU Pre-emphasis Options

Power Options

110/220v AC Wall Adapter
12/24V DC Mobile Power Adapter
Computer USB Adapter
Internal 3 "AA" Battery Compartment

Audio Options

3.5mm (⅛") Stereo Jack
RCA Adapter (red/white)
2.5mm Microphone Port (mic not included)

Power Control
Mechanical Power Switch
Frequency Response
20Hz ~ 15KHz
Signal to Noise Ratio
>65dB
Audio Performance
0.2% distortion
Stereo Separation
40dB
RF Harmonica Rejection
Operation Time
Antenna Design

Reverse-threaded Screw Attachment
6.5″ Swivel SMA Style Antenna
Interchangeable Wire Extension

Case Design

Sturdy Shell – Secured by exterior screws
Flat bottom is easier to Balance
Ergonomic Shape

Belt Clip

Sturdy plastic clip
Easily unscrewed from back
Flat back when removed

Interface

Simplified Controls
Large Screen (1.34″ x 1.10″ – 81% Larger)
Easy to Read
Blue Backlighting

Tuning Design
Stable PLL Technology
Meets FCC Part 15 Rules
Yes, FCC ID: XOA WHFM3
Meets Canada IC Rules
Yes, IC ID: 8728A-WHFM3
Optional Accessories
Transmission Signal
FM Stereo or FM Mono
Dimensions
4.1″ L, 2.7″ W, .9″ D
Weight (w/ antenna)
3.7 ounces
User Manual
Click here to view the User Manual
Here's Why You Need to Act NOW!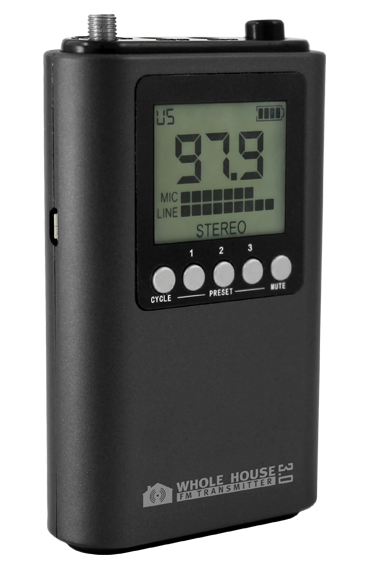 List Price: $250.00
Price: $124.99
Sale: $99.99 (with our $25 Facebook Coupon!)
The Broadcast Distance – broadcasts 150 ft. radius, guaranteed
Digital Screen Display – large, easy to read LCD screen display
Covers Full FM Band – 88.0 – 108.0 (even & odd frequencies)
Microphone Port – broadcast your voice life to any FM Radio
FCC Part 15 Compliant – FCC ID: XOAWH-FMT & IC: 8728A-WHFMT
Easy Plug & Play – Takes about 5 minutes to setup
Power it 4 Different Ways – 110/220V AC Wall Outlet, 12/25V DC Car Adapter, USB and 3 AA Batteries