Sell More Real Estate With a Home FM Transmitter
A Secret Real Estate Technique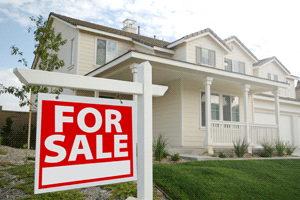 If you sell real estate to earn a living, then please read this article and I'll reveal a solution to help you sell more real estate than you have ever imagined.
How is it possible?
I'll share with you exactly what you need in a moment, but first please read on.
You see…
You Could Be Making More Leads!
Your listings are on the web and in little flyers across your city or town. When someone sees a listing they want to check out, they will do a slow drive-by to get a feel for it. You know…check it out and see if it piques their interest.
Now imagine as they roll by one of your listings, they hear a recording on their FM radio that explained to them the features of the house. The new carpets, the updated kitchen, the expansive living room…not to mention the walk in closet.
Do you think you could pique their interest even further?
You can, if you use an FM Transmitter for real estate.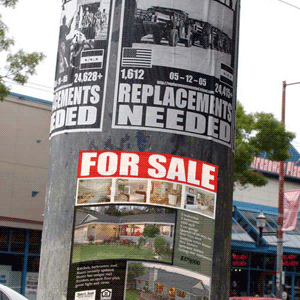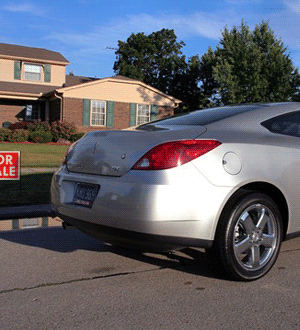 A transmitter can broadcast the sound from any audio source to any FM radio, like in a car.
Now are you starting to see how this can help you achieve more sales and pique the interest in prospective clients when they drive-by your listing.
Good!
We want you to experience the joy of more sales, we want you to sell more real-estate and attain more customers.
Here's how it works:
You can take a audio message and tape it or place it in a mp3 file, whatever you would like. You can even use a computer if you would like. You then plug the audio source which contains your message, into the FM transmitter for real estate.
Then you place a sign in the yard of your listing. On the sign you tell prospective buyers to tune to a certain radio station, 106.1 for instance.
When the prospective buyer tunes to that particular station, they will hear your message.
You not only will pique their interest, you will generate more leads and more sales.
It's possible, if you take action.
Here, let me show you our Whole House FM Transmitter 3.0, it can broadcast sound 150 feet in stunning clarity.
…and while it's still on your mind, you should seriously check it out…
Technical Specs
Transmission Output
We guarantee a radius of 150 feet
Frequency Range
88.0 ~ 108.0 in 0.1 MHz steps
Frequency Saving
3 preset buttons
Pre-emphasis

US and EU Pre-emphasis Options

Power Options

110/220v AC Wall Adapter
12/24V DC Mobile Power Adapter
Computer USB Adapter
Internal 3 "AA" Battery Compartment

Audio Options

3.5mm (⅛") Stereo Jack
RCA Adapter (red/white)
2.5mm Microphone Port (mic not included)

Power Control
Mechanical Power Switch
Frequency Response
20Hz ~ 15KHz
Signal to Noise Ratio
>65dB
Audio Performance
0.2% distortion
Stereo Separation
40dB
RF Harmonica Rejection
Operation Time
Antenna Design

Reverse-threaded Screw Attachment
6.5″ Swivel SMA Style Antenna
Interchangeable Wire Extension

Case Design

Sturdy Shell – Secured by exterior screws
Flat bottom is easier to Balance
Ergonomic Shape

Belt Clip

Sturdy plastic clip
Easily unscrewed from back
Flat back when removed

Interface

Simplified Controls
Large Screen (1.34″ x 1.10″ – 81% Larger)
Easy to Read
Blue Backlighting

Tuning Design
Stable PLL Technology
Meets FCC Part 15 Rules
Yes, FCC ID: XOA WHFM3
Meets Canada IC Rules
Yes, IC ID: 8728A-WHFM3
Optional Accessories
Transmission Signal
FM Stereo or FM Mono
Dimensions
4.1″ L, 2.7″ W, .9″ D
Weight (w/ antenna)
3.7 ounces
User Manual
Click here to view the User Manual
Here's Why You Need to Act NOW!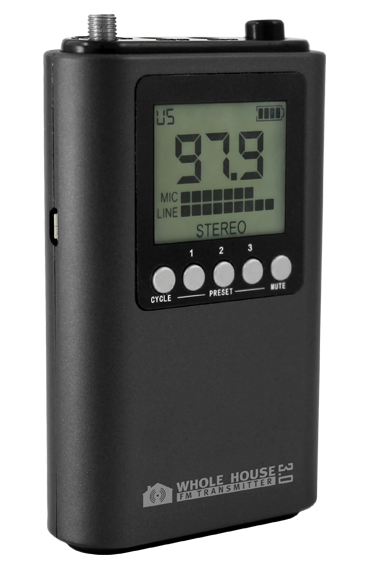 List Price: $250.00
Price: $124.99
Sale: $99.99 (with our $25 Facebook Coupon!)
The Broadcast Distance – broadcasts 150 ft. radius, guaranteed
Digital Screen Display – large, easy to read LCD screen display
Covers Full FM Band – 88.0 – 108.0 (even & odd frequencies)
Microphone Port – broadcast your voice life to any FM Radio
FCC Part 15 Compliant – FCC ID: XOAWH-FMT & IC: 8728A-WHFMT
Easy Plug & Play – Takes about 5 minutes to setup
Power it 4 Different Ways – 110/220V AC Wall Outlet, 12/25V DC Car Adapter, USB and 3 AA Batteries