Introducing The TV FM Transmitter That Broadcasts Over 150 Feet
Introducing...the all new Whole House FM Transmitter 3.0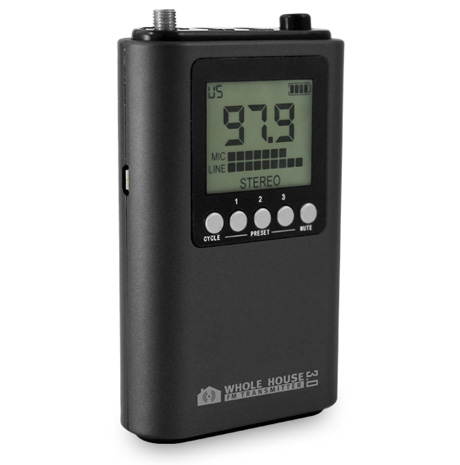 Broadcast your favorite audio sources 150 feet in any direction
FREE Lifetime Customer Support with trained staff via email or phone… we are invested in your FM experience and are here for general or complex set up questions.
FREE Shipping inside the United States… we take care of shipping as an added bonus for all of our customers.
100% Satisfaction Guarantee… try out the Whole House FM Transmitter 3.0 for 120 days and return it for a full refunds, hassle free, if you are not 100% satisfied.
Save $25 dollars with our "special" Facebook coupon and become registered to win a FREE Whole House FM Transmitter once you have liked our Facebook fan page.(Does Not apply to 3.0 Preorder)
Six FREE Accessories including an AC wall power adapter, 1/8" (3.5mm) stereo audio cable, USB power cable, 12V DC car adapter, stereo audio "Y" cable, and an RCA jack stereo audio adapter.
FREE 1 Year full coverage warranty… just let us know if there is any problems and we will get it fixed or replaced.
You're about to Discover the TV FM Transmitter that Works Right Out of the Box...
…and takes Under 4 Minutes to Set Up
If you want to broadcast your television sound to a nearby FM radio, then this is the most important letter you'll read this year.
Here's why:
We developed a new FM transmitter engineered to broadcast the sound from your television set to any FM radio. And it transmits the sound in amazing clarity so you can hear every word without a hint of crackle or static thanks to our integrated automatic gain control and  6.5" adjustable SMA antenna.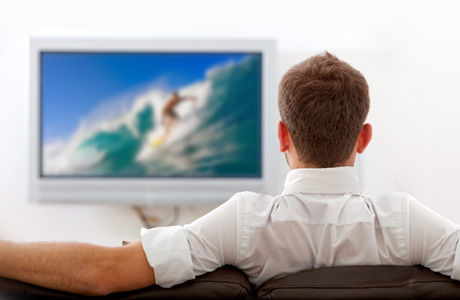 Transmits Your Television's Audio 150 Feet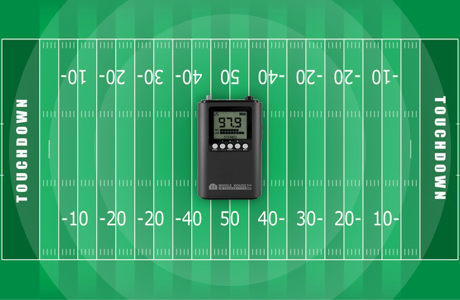 Most TV FM transmitters only broadcast sound a few feet and when you sit further than 5 feet away from your television set, you can see how the sound has a hard time reaching it's destination.
Where other wireless transmitters strike out, the Whole House FM Transmitter 3.0 knocks it out of the park with an amazing 150 feet of broadcast distance.
More than enough to reach you in your chair, bed, back yard or garage.
We don't just promise it will work, we guarantee it writing.
In fact, our slogan "We Go The Distance" ensures you get the distance you demand while still keeping the sound quality at its best.
Compatible with Analog or Digital Outputs
As you're well aware, televisions either broadcast sound in analog or digital, and we're happy to reveal our television FM transmitter is capable of broadcasting in both audio formats. (Digital analog converter not included is required for digital signal).
So when it comes to listening to your television with the Whole House FM Transmitter 3.0, you will know it will work regardless of television make or model and the included RCA jack makes it easy.
Each Whole House FM Transmitter 3.0 uses multiple powering methods. It's flexibility allows for energy sources like an AC wall outlet or 'AA' batteries.
Not only can you use these two main methods of power, you can also plug it into your car's cigarette lighter or computer. We even include the USB power cable, AC adapter and car adapter for free!
With these varying power supplies, it should cover all the methods you need and give you the flexibility you would expect from a well-built TV FM transmitter.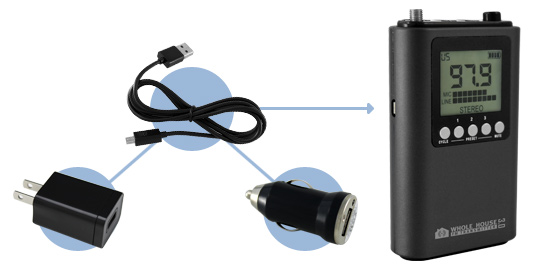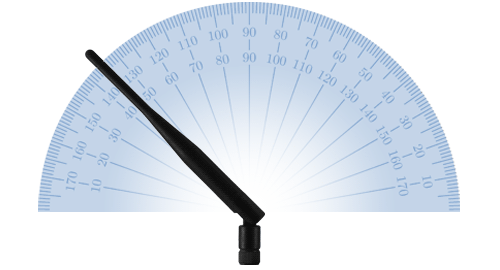 About the Size of a Deck of Cards
The new Whole House FM Transmitter 3.0 is about the size of a deck of cards. You can cradle it in the palm of your hand if you want.
It tucks neatly away and stays out of sight, so you can hide it behind your stereo and forget about it.
Stronger & More Durable Case
The all new sleek design is cast from a stronger plastic polymer to help safeguard against accidental drops and four screws keep critical components secured and in place.
Adjustable 6.5" Swivel Antenna
The new 6.5″ swivel SMA antenna adjusts and rotates for different reception angles, plus it's unscrews for better storage. Constructed from wound wire and protected by a hard plastic shell, the helical antenna is sturdy and durable.
Utilize Full FM Public Band
Most FM Transmitters fail to broadcast over the entire FM public band.
Even the first one we designed many years ago allowed for only 7 channels selections. It's why we went back to the drawing board and engineered a better home FM transmitter
We included the even and odd channels so you can fine-tune your selections and receive the cleanest signal possible.
Choose the Frequency for your location – relax in the knowledge that you have the full FM dial to select the frequency you desire, not one forced on you
Static Free signal – whether your tucked in a high rise apartment in Brooklyn or snuggled beneath a mountain in Montana, you will find the clearest channel for amazing sound clarity
Full FM Band Flexibility allows choices – take the FM transmitter anywhere and tune into the clearest fm frequencies available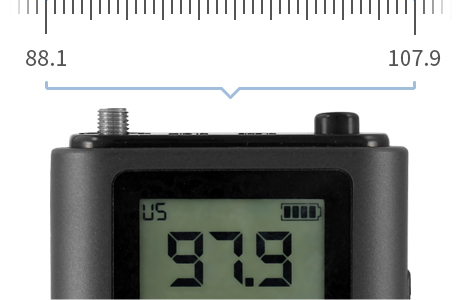 Technical Specs
Transmission Output
We guarantee a radius of 150 feet
Frequency Range
88.0 ~ 108.0 in 0.1 MHz steps
Frequency Saving
3 preset buttons
Pre-emphasis

US and EU Pre-emphasis Options

Power Options

110/220v AC Wall Adapter
12/24V DC Mobile Power Adapter
Computer USB Adapter
Internal 3 "AA" Battery Compartment

Audio Options

3.5mm (⅛") Stereo Jack
RCA Adapter (red/white)
2.5mm Microphone Port (mic not included)

Power Control
Mechanical Power Switch
Frequency Response
20Hz ~ 15KHz
Signal to Noise Ratio
>65dB
Audio Performance
0.2% distortion
Stereo Separation
40dB
RF Harmonica Rejection
Operation Time
Antenna Design

Reverse-threaded Screw Attachment
6.5″ Swivel SMA Style Antenna
Interchangeable Wire Extension

Case Design

Sturdy Shell – Secured by exterior screws
Flat bottom is easier to Balance
Ergonomic Shape

Belt Clip

Sturdy plastic clip
Easily unscrewed from back
Flat back when removed

Interface

Simplified Controls
Large Screen (1.34″ x 1.10″ – 81% Larger)
Easy to Read
Blue Backlighting

Tuning Design
Stable PLL Technology
Meets FCC Part 15 Rules
Yes, FCC ID: XOA WHFM3
Meets Canada IC Rules
Yes, IC ID: 8728A-WHFM3
Optional Accessories
Transmission Signal
FM Stereo or FM Mono
Dimensions
4.1″ L, 2.7″ W, .9″ D
Weight (w/ antenna)
3.7 ounces
User Manual
Click here to view the User Manual
Here's Why You Need to Act NOW!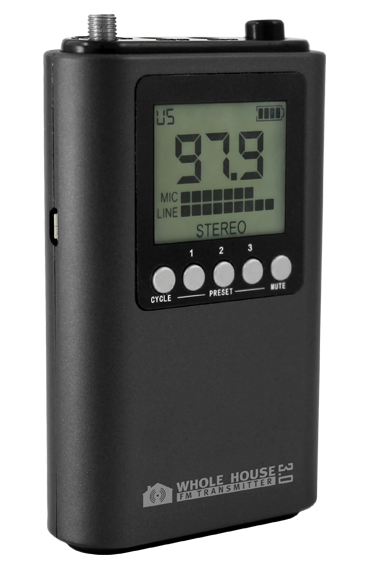 List Price: $250.00
Price: $124.99
Sale: $99.99 (with our $25 Facebook Coupon!)
The Broadcast Distance – broadcasts 150 ft. radius, guaranteed
Digital Screen Display – large, easy to read LCD screen display
Covers Full FM Band – 88.0 – 108.0 (even & odd frequencies)
Microphone Port – broadcast your voice life to any FM Radio
FCC Part 15 Compliant – FCC ID: XOAWH-FMT & IC: 8728A-WHFMT
Easy Plug & Play – Takes about 5 minutes to setup
Power it 4 Different Ways – 110/220V AC Wall Outlet, 12/25V DC Car Adapter, USB and 3 AA Batteries